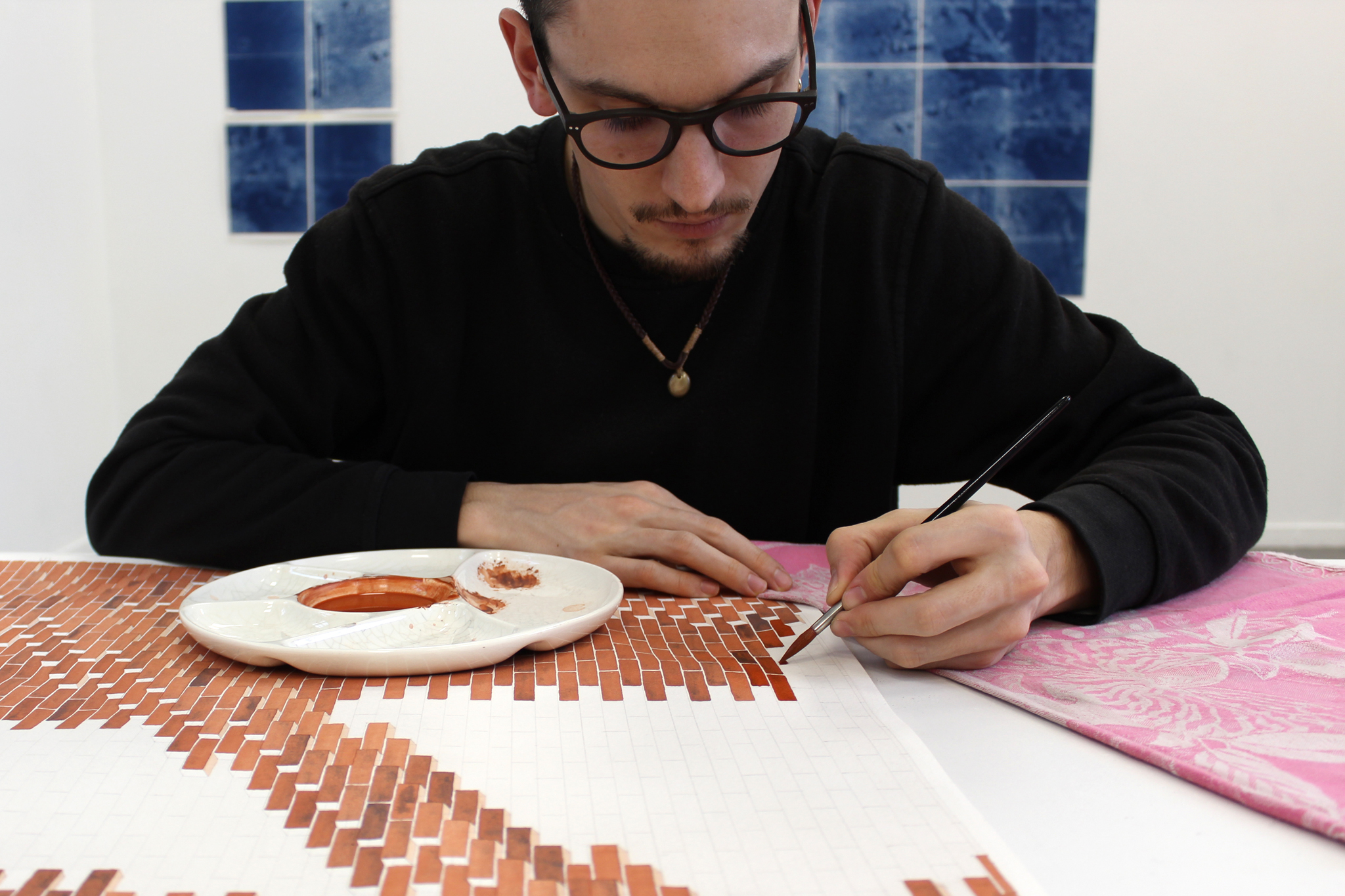 gaël darras
Lives and works in Nantes (Fr.). Gaël Darras is graduated from the Art School of Nantes Métropole (2014).
Gaël Darras' art works find their foundations in the imagery of architectural drawing and from ancestral traditions linked to the geometric line. Through the study of journeyman knowledge, symbols and esoteric sciences, and by his interest in archaeological and mythological vestiges, he seeks to bring together the memory of knowledge formerly addressed to initiates. At the time of dematerialized informations, accumulates, accelerates in an uninterrupted flow, Gaël Darras is in search of the invisible foundations that make the intelligence of image and frame.
Slowly, using golden numbers and proportions, he creates spaces of vibration made up of fragments of architecture dedicated to contemplation. At the center of its aesthetics: the brick motif. Tirelessly repeated on the sheet, the brick operates like a monad that makes up the macrocosm of the image – like an ode to the complex and mysterious relationship that links humans to their environment. What about the future of this relationship today?
 2020
Espace Mira, avec Leah Desmousseaux à Nantes
2018
Locus in aliore loco avec Leah Desmousseaux au CAPRA à Allonnes
En réalité je n'ai trouvé que du sable, à l'atelier Alain Lebras à Nantes
2017
Edmond Multiples et éditions aux ateliers Millefeuilles à Nantes 
 2020
émergences #2, Galerie Robet Dantec, Belfort
2019
Contre Forme à l'Atelier, invité par MPVite, à Nantes
2018
De la zone humide ou naissent les image à Open school gallery, ESBANM, à Nantes
Dernier rite au Grand Atelier, Maison de quartier Madeleine Champ de Mars, à Nantes
2016
Présentation d'une pièce à l'exposition Do It du Frac des Pays de la Loire à la HAB Galerie à Nantes
2015
Archiculture à Millefeuille à Nantes
2014
Publication d'un travail personnel dans le magasine Kiblind, suivi d'une exposition collective au Point Éphémère à Paris
Short Cuts à la galerie Short à Nantes
 2020
résidence chez Collectif BLAST à Angers
2019
bourse d'Aide Individuelle à la Création de la DRAC Loire Atlantique
2e place du Prix Paris 1 Panthéon-Sorbonne pour l'Art contemporain pour une pièce réalisée en collaboration avec Leah Desmousseaux 
art works