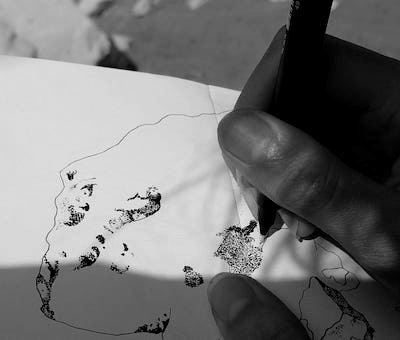 elsa broustet
Elsa Broustet lives and works in Brussels (Belgium). She graduated from the Haute école des arts du Rhin (2019) then from the Académie des Beaux-Arts de La Cambre in Brussels (2022).
In 2020, she is staying for several months in Southeast Asia from where she will bring back drawings from her travels from the different countries crossed (Laos, Cambodia, Thailand, Vietnam).
Elsa Broustet is interested in detail, intimacy, in everyday life. She composes / recomposes landscapes, decors that float on paper but also in space since she continues her plastic practice through volume. Gradually, slowly, she accumulates the elements, repeating the patterns that will form a homogeneous whole, in a constant search for harmony. The place of the visitor is an integral part of his work. He is invited to take the time to pay attention, to turn around the ceramics placed on the ground, even to turn the pages of the etchings… She is also inspired by Persian miniatures which are a fabulous example of precision, all in detail and finesse, in a constant search for perfection.
"If you stick to nature, to what is simple in it, to what is small, which hardly anyone sees, and which can just suddenly turn into something big, immeasurable ; if you have this love for the insignificant and seek hard, simply, as a servant, to gain the confidence of what appears poor – then everything will become for you lighter, more homogeneous, and, in a certain way, more fit for purpose. to reconcile not your understanding, perhaps, which astonished, will remain behind, but the most intimate part of your conscience, of your awakening and of your knowledge. »
Rainer Maria Rilke, Letter to a young poet, 1929
2023
D Dessin Paris, Robet Dantec Gallery, FR
Eostre Equinoxe – Exhibition of the collective Marcel Téton, Espace Lebeau, BE
La Cambre – When Words Become Form. Plastic Writings, Jean Baptiste Carobolante and François de Coninck – Galerie du Botanique, BE
Invitation by Francesco Battistello: Warriors, Wolves and the Child, Fondation Moonens, BE
Apparat – Collective exhibition, la Haberdashery, BE
2022
Participation in Denderland shopping at the pet store Petwhat, Grammont, BE
2021
Of wood and paper – duo with Raphaël Galley, Galerie Robet Dantec, Belfort, FR
2020
Small formats – Collective exhibition, Galerie Robet Dantec, Belfort, FR
2019
emergences #1 – Collective exhibition, Robet Dantec Gallery, Belfort, FR
MISE AU VERT – Collective exhibition, Le Séchoir, Mulhouse, FR
IMPRESSION(s) – Collective exhibition – HEAR, Grand'rue Library, Mulhouse, FR
OASIS – Collective exhibition – Kunsthalle de Mulhouse, FR
2016
Point of view n°16 – Night of museums, Museum of Art and of history of Saint-Denis, FR
Hanging with Astou Touré and Nina Bonardi, Espace Beaujon, Paris, FR
2022
Bouchée Double, creative culinary studio, Brussels, BE 2021 Buffets of the Peridion exhibition of the Satellite SF, With
Anne Claire Noyer and Patricia Lino Dias, Atoma, Brussels, BE
2020
Dodo Toucan, ceramic workshop, Paris, FR 2019 Bakery – pastry Walter, In pastry, Wittenheim, FR
2018-19
White Butterflies Project – Work with people in disability of the Cap Cornely residence, HEAR, FR
2018
Aurélie Dorard, ceramist, Bagnolet, FR
2017-18
CHAAP Project – Animation of workshops for students of classes with flexible hours in plastic arts, HEAR, FR 2012 Atelier Tsé-Tsé associated, design, Paris, FR
2016
Assistance with the creation of Line Hachem's frescoes at the
Robert-Debré Hospital, Association of Dreams and Actions, Paris, FR