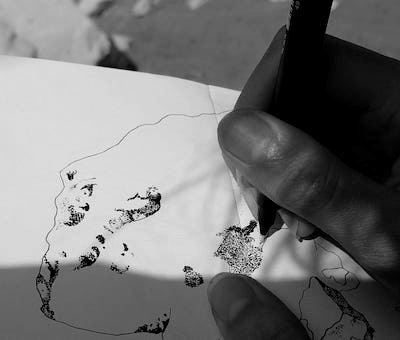 elsa broustet
Elsa Broustet lives and works in Brussels (Belgium). She graduated from the Haute école des arts du Rhin (2019) then from the Académie des Beaux-Arts de La Cambre in Brussels (2022).
In 2020, she is staying for several months in Southeast Asia from where she will bring back drawings from her travels from the different countries crossed (Laos, Cambodia, Thailand, Vietnam).
Elsa Broustet is interested in detail, intimacy, in everyday life. She composes / recomposes landscapes, decors that float on paper but also in space since she continues her plastic practice through volume. Gradually, slowly, she accumulates the elements, repeating the patterns that will form a homogeneous whole, in a constant search for harmony. The place of the visitor is an integral part of his work. He is invited to take the time to pay attention, to turn around the ceramics placed on the ground, even to turn the pages of the etchings… She is also inspired by Persian miniatures which are a fabulous example of precision, all in detail and finesse, in a constant search for perfection.
"If you stick to nature, to what is simple in it, to what is small, which hardly anyone sees, and which can just suddenly turn into something big, immeasurable ; if you have this love for the insignificant and seek hard, simply, as a servant, to gain the confidence of what appears poor – then everything will become for you lighter, more homogeneous, and, in a certain way, more fit for purpose. to reconcile not your understanding, perhaps, which astonished, will remain behind, but the most intimate part of your conscience, of your awakening and of your knowledge. »
Rainer Maria Rilke, Letter to a young poet, 1929
2019
"Oasis", Kunsthalle, Mulhouse
"émergences #1", Galerie Robet Dantec, Belfort
2021
"De bois et de papier", en duo avec l'artiste Raphaël Galley, Galerie Robet Dantec, Beflort.